Recognizing Veterans
Veterans Enjoy GHDT's The Nutcracker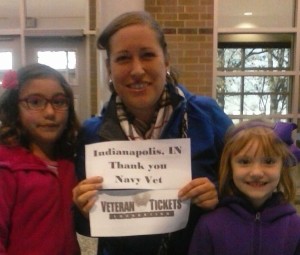 Veterans and military families were able to enjoy GHDT's The Nutcracker at Pike Performing Arts Center in December with the assistance of VETTIX.com and GHDT.  More than 190 were in attendance throughout the weekend.
"What a performance!! Thank you! Thank you! True talent at the Gregory Hancock Dance Theatre and we can't thank you enough for giving us the opportunity to see the performance! We all enjoyed it very much! A great way to start the holiday season!"  -posted by Jacque
"It was amazing! The best performance of the Nutcracker I have ever seen. The guy who played the Nutcracker blew my mind. He could move like no other! The snow scene was beautiful and amazing!" –posted by David
"Thank you Vet Tix. My girls and I enjoyed the show very much. Thanks also to Gregory Hancock Dance Theatre. The Nutcracker show helped us to kick off our holiday season in style. -posted by Diana
Veteran Tickets Foundation (Vet Tix) provides FREE event tickets to family members of troops Killed In Action (K.I.A.), our Military and Veterans to sporting events, concerts, performing arts and family activities. Attending these events reduces stress through entertainment, strengthens family bonds, builds life long memories and encourages service members to stay engaged with American life and local communities.
Get more information on Vet Tix and the great work they do for our military on the vettix.org website.