Gregory Glade Hancock is founder, Artistic Director and primary choreography for Gregory Hancock Dance Theatre. Prior to this, he was the Artistic Director for Indianapolis Dance Company. He has created over 120 works for GHDT's diverse and vast repertoire including such critically acclaimed pieces as The River's Edge, Stigmata, 1941, Out of Darkness, 1968, Dracula, The Rapture, Joan of Arc, The Trojan Women, The Birth of the Gods, Lagaan, cuchci cuchi, The Sari, Devdas, Alice and Her Bizarre Adventures in Wonderland, Hooray for Tollywood, The Hunchback of Notre Dame, SUPERHERO; the story of a man called Jesus, A Legend of Enternal Love, Pinocchio and many more.
Mr. Hancock has created choreography for dance companies in the USA, Eastern Europe and India. He has had the honor of the National Dance Ensemble of Latvia presenting an entire program of his works, which has toured throughout Europe. He has also created choreography for Musical Theatre, opera, industrials, television commercials, film, and international top-level figure skaters. In addition to dance, Mr. Hancock is an accomplished musician and visual artist. He spent six years as the Costume Designer for "Yuletide Celebration" with the Indianapolis Symphony Orchestra and numerous other orchestras throughout the country.
He has received numerous awards and honors for his work as a dancer and choreographer including two Master Artist Fellowships from the Indiana Arts Commission, International Fellowships from ArtsLink and The Citizen Exchange Council in New York and two Creative Renewal Fellowships from the Arts Council of Indianapolis and Lilly Endowment.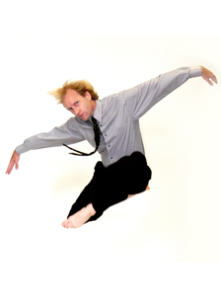 Mr. Hancock was named Outstanding Choreographer at the Youth America Grand Prix in 2005 in NYC. Mr. Hancock was invited to bring his company to the prestigious 11th International Baltic Ballet Festival in Riga, Latvia in 2006, where the company received critical acclaim and was invited back for a second tour in 2007.
Mr. Hancock also works in Mumbai, India with Expression Modern Dance Company. He has worked extensively with themes of India in his work and has created a unique fusion of Eastern and Western dance forms. He is the director for The Academy of GHDT and teaches at the Academy as well.