GREGORY GLADE HANCOCK
Gregory Hancock is the Executive Artistic Director for the internationally acclaimed Gregory Hancock Dance Theatre and now also serves as the director for The Academy of GHDT. Through the Academy of GHDT, Mr. Hancock is able to pass on a legacy of work and training to young aspiring dancers. Mr. Hancock has taught dance for many years at numerous local dance institutions. He has trained numerous students over the years who have continued to dance professionally in companies throughout the world. He has also taught dance at "Daile" the national dance ensemble of Latvia in Riga, Latvia. Most recently, Mr. Hancock has taught modern dance in Mumbai, India, at Expressions Modern Dance Company, the premiere modern dance company of Mumbai. Mr. Hancock's unique choreography has been lauded internationally. He has received numerous honors for his work, including Individual Artist Fellowships from the Indiana Arts Commission, Creative Renewal Fellowships from the Arts Council of Indianapolis and Lilly Endowment, fellowships from ArtsLink and the Citizen Exchange Council in NYC, and was awarded Outstanding Choreographer at the Youth America Grand Prix Finals in NYC. He has created an expansive repertoire of pieces for the professional company and has created choreography for companies throughout the USA and Europe.
KIRSTEN FERGER
Kirsten Ferger danced professionally with American Ballet Theatre (ABT) under the direction of Mikhail Baryshnikov with training from Elena Tcherichova, Mikhail Baryshinkov, Jurgen Schneider, Georgina Parkinson, and Susan Jones. She was a Principal Dancer with the American Festival Ballet under directors Stephen and Elizabeth Rowe-Wistrich of Stuttgart Ballet, where Kirsten had the pleasure and opportunity to perform Holberg Suite choreographed by John Cranko, and performed several years with Indianapolis Ballet Theatre under the direction of George Verdak and Dace Dindonis. She also received private coaching from Irina Kolpakova while Ms. Kolpakova was with Ballet Internationale. Ms. Ferger, while on scholarship at the American Ballet Theatre School, trained with Patricia Wilde, Valentina Pereyslavik, Royes Fernandez, Daryl Grey, and Michael Maule. Additional training while in New York City includes Maggie Black, David Howard, and Robert Denver. Ms. Ferger began her training in Indianapolis at the Jordan College of Music, S.I.D. with Colette Kaufman, Jack Copeland, Peggy Dorsey, and Rebecca Rutt, and at Butler University with Karl Kaufman, Michele Jarvis, Teresa Ragucci-Chatelanie, Bud Kerwin and William Glen. Ms. Ferger received scholarships at American Ballet Theatre School and Butler University and awards which include Indiana Dance Alliance and Indiana State Arts and Letters Competition and received an honorable mention at the National Arts and Letters Competition in New York City. Ms. Ferger has taught for over 16 years beginning with the Academy of Ballet Theatre from 1993-1999. Kirsten started teaching company dance classes for Gregory Hancock Dance Theatre in 2004 and continues to teach for GHDT and AGHDT, starting with the opening of GHDT's Academy in the fall of 2009.
HANNAH BROWN
Hannah Brown began her dance training in Charlotte, North Carolina, under the direction of Melissa Hale-Coyle and Lisa Leone at the Charlotte City Ballet Company. She attended the University of South Carolina, where she performed in works by choreographers such as George Balanchine, Twyla Tharp, Helen Pickett, and Gianni Di Marco. In 2013, she graduated Magna Cum Laude with a degree in Dance Performance and Choreography. She has been a company dancer with Gregory Hancock Dance Theatre and a dance teacher at the Academy since 2013.
CHLOE HOLZMAN
Chloe Holzman started her training at Northwest Ballet Academy in suburban Chicago. She received her BFA in Ballet with an emphasis on teaching and character dance from the University of Utah and a Minor in Psychology. She was also president of the Character Dance Ensemble, with whom she traveled to Spain, Hungary, and Ukraine to learn local folk dances and perform the group's repertoire. Her first performance with Gregory Hancock Dance Theatre was "The Hunchback of Notre Dame" in 2018, at which point she also joined the academy faculty. She teaches our next generation of dancers with the beginning classes and Character and Ballet. Chloe is currently working on her certification as a dance teacher in the Cecchetti method.
CAMDEN LANCASTER
Camden Lancaster received her bachelor's in Dance Performance at Anderson University. While at Anderson, she had the opportunity to perform at the Kennedy Center and twice received the Allen Choreography Award. Camden joined GHDT in 2018. Her first performance with the company was THE HUNCHBACK OF NOTRE DAME. Camden's most memorable roles to date are "Mother of the Chosen" in EXODUS and "The Other Women" in LA LLORONA. She has been the resident Jazz teacher at AGHDT since 2019.
ABIGAIL LESSARIS
Abigail Lessaris began her journey with Gregory Hancock Dance Theatre, in 2006, in their annual performance of The Nutcracker when she was ten years old. She was a student at The Academy of GHDT since its opening in 2009, where she received her most valued dance training under the instruction of Mr. Hancock and the wonderful AGHDT staff. Abigail was a member of G2, the pre-professional company of GHDT, for six years until her graduation in the spring of 2014. Abigail is currently a company dancer and rehearsal assistant with GHDT. Abigail has been a member of the faculty at the Academy since 2016. She serves as the Director of G2, alongside Mr. Hancock, as well as teaching modern.
THOMAS MASON
Thomas James Mason, from Denver, Colorado, began dancing at Premier School of Dance and is an alumnus of the pre-professional program at Sweatshop Dance. Thomas is trained in Tap, Jazz, Ballet, Lyrical, Modern, Contemporary, Hip Hop, Commercial and Aerial, and continues to expand into other styles of dance. He graduated in 2015 from the Dance and Movement program at Denver School of the Arts and then moved to the United Kingdom. Thomas graduated in 2018 from Falmouth University with a BA(Hons) in Dance and Choreography. After graduating in 2015, Thomas worked professionally as a freelance dancer traveling worldwide, performing, teaching, and choreographing in different film and stage projects. Also, while at Falmouth University, Thomas was a company member at Yskynna Vertical Dance Company until moving back to the states to join Gregory Hancock Dance Theater in 2019. Thomas started teaching dance at AGHDT in 2020.
JOSIE MOODY
Josie Moody began her training at The Academy of Gregory Hancock Dance Theatre during its opening in 2009. Josie was a member of GHDT's pre-professional company, G2, for six seasons. She has been a part of many company performances throughout the years, including SUPERHERO, The Scarlett Letter, Exodus, and The Hunchback of Norte Dame. Josie was humbled to receive the Florence Marie Hancock Memorial Scholarship in 2018. She is currently working towards a bachelor's Degree in Criminal Justice and could not be more thrilled to be able to continue her journey with GHDT. Josie would like to thank Mr. Hancock for the countless opportunities he has given her. Josie started teaching dance at AGHDT in 2022.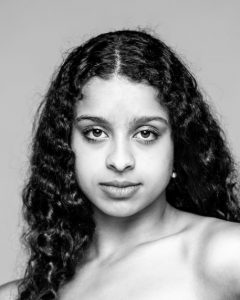 OLIVIA PAYTON
Olivia Payton started training with AGHDT in 2011. In 2014 she joined the pre-professional company G2 and will forever cherish her six seasons spent dancing alongside other talented student dancers. Throughout her time in G2, she has been privileged to dance with the company in productions such as The Casket Girls, Exodus, SUPERHERO, The Violin Under the Bed, and Once Upon A Time. In the summer of 2018, Olivia attended Alvin Ailey American Dance Theatre's Summer Intensive on a full scholarship. Olivia was the first recipient of the Florence Marie Hancock Memorial Scholarship in 2014 and is grateful to have received the scholarship again in 2019. Olivia started teaching dance at AGHDT in 2020.
If you are a dance teacher looking to be added to our substitute list or inquire about a permanent teaching position, please get in touch with us at theacademyofghdt@gmail.com.