Words from Gregory Hancock
I wanted The Florence to be a unique space that would befittingly honor and celebrate my mother, Florence Marie Hancock. She loved to spend time in rehearsal spaces watching visions come to life. I asked three incredibly gifted artists to create unique artwork for The Florence. When The Academy of GHDT was established, I spent many hours writing inspirational quotes on the subfloors prior to the Marley floor being installed. I wanted to the space to be a sacred space, where dancers would be supported by inspirational words below their feet. Quotes from philosophers, poets, authors, actors, scientists, dancers, visual artists, musicians, and religious texts fill the floors of both studios. The process of spending many hours late at night writing and thinking about the words became an inspirational process for me. Most people do not even know these words exist underneath the floors. I decided more people should know about this, so I wrote all the quotes from the floors on strips of fabric and then I asked GHDT supporter and friend, Mary Strinka to create a wall hanging that could adorn the lobby walls. Below are words from Mary about her creation.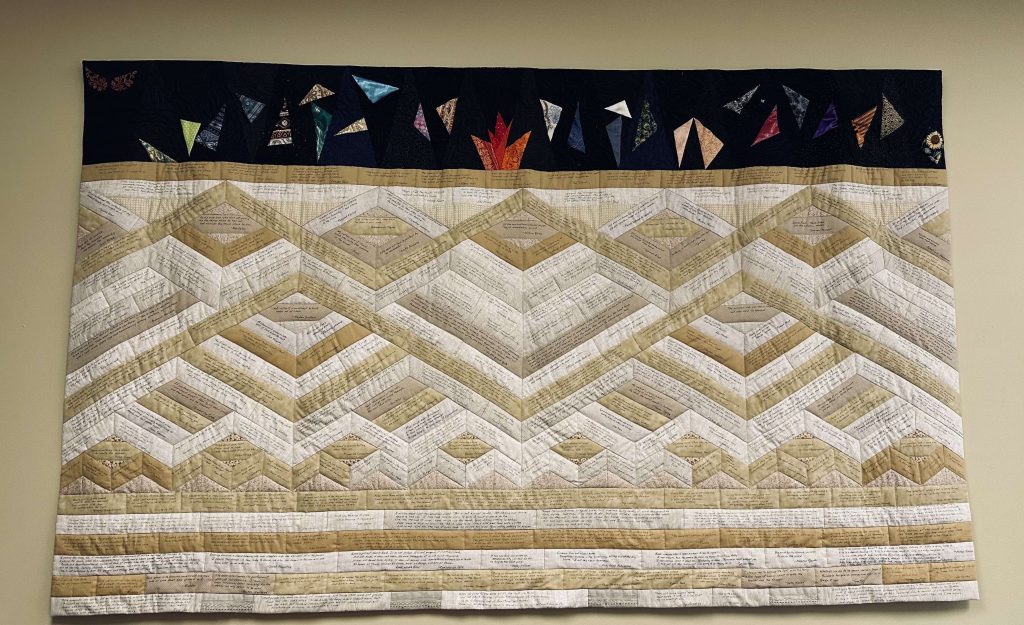 ODE TO THE FLOOR
A seed was planted in spring 2022 during the rehearsals for Exodus. In preparation for the remodel of the studio, the front edge of the actual dance floor was uncovered, leaving exposed the inch or two of open space beneath. While watching a studio rehearsal, I was captivated by how much the floor interacted with the dancers, alternately accepting, and releasing the energy from above, far from an inert inanimate object, but almost breathing with the dancers. When Gregory asked me about finding a way to bring all the quotations and messages out into another more visible surface, I thought about what those words had been doing with that energy over the years. They were feeling music and rhythm and repetition, not random energy, but organized and structured energy. So the strips of text Gregory provided to me chose to be organized into all the different rhythms, in a way that let those hundreds of voices speak out in harmony, not noise. You can find sets of 16, and 8, and 4, and 2, and 6, and 3 in the various layers, as well as several resting places for calm reflection. The simple foundation layers provide the strength to hold up all the interlocking movement. The top freeform section represents my abstract impressions of various scenes from performances I have seen over the years. Some are very literal and some that just felt right. One of the pieces of fabric I chose as just "feeling like" a dance scene, turns out to in fact be a
duplicate of a fabric that is part of an actual costume!
The overall message of the completed piece is that true creative beauty is achieved only after combining inspiration with layers of discipline, structure, repetition, and practice. Another lesson is that even the mundane floor is worthy of your respect; it continually demonstrates how we are always supported and stabilized by other people's labor. Mary has had a lifetime love of all forms of needlecraft, taught primarily by her mother. Quilting has been her primary creative focus for the last 20 years. After retiring from a career in information technology, she has continued to merge traditional quilt making techniques with other fiber art processes like dyeing and beadwork to create original art. Her style includes the use of unusual and specialty fabrics, as well as three- dimensional pieces which invite the viewer to rethink what "quilting" can mean. Mary has held several volunteer positions with the Quilters Guild of Indianapolis, serving as its president in 2013, and Quilt Show Chair in 2019. She has won multiple ribbons at local quilt shows, as well as the Indiana State Fair. She is also a member of the local art-focused group
InFiber. A native of Buffalo, New York, Mary has been a resident of Carmel since 1995.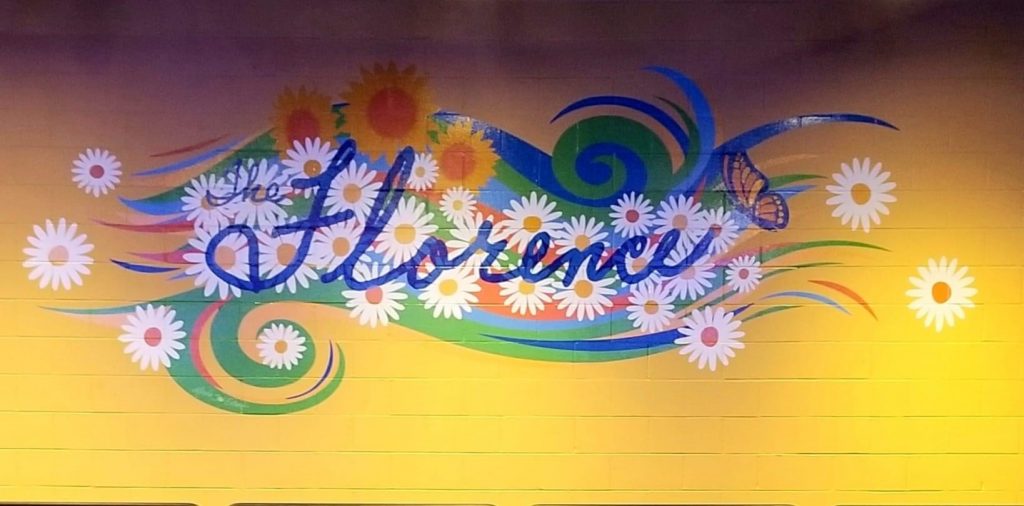 About The Florence Mural:
I was honored and excited when Gregory asked me to create a mural for the newly renovated theatre space, named The Florence as a loving tribute to his mother. Gregory's mother meant the world to him. She was his biggest supporter, his rock, and trusted advisor. Sadly, I never had the pleasure of knowing Florence. The many folks who knew her, tell me she absolutely adored her talented son and was a wonderful, caring presence among the dancers, students, and staff. Her name is the main element of the mural. To make it extra special, Gregory asked that I incorporated her signature into the design. Nature was important to her, so her signature plays among daisies and sunflowers, her favorite flowers. A monarch butterfly hovers to the right of her name as a symbol of hope, transformation, and love. Seemingly fragile yet very strong, like the theatre's namesake. It's a dance studio after all, so I felt the design had to show movement, happiness, joy, and swirls of color. Like a garden in motion, signed by her gentle hand. Mirvia Sol Eckert is a Puerto Rican artist living and working as a full-time painter in Indianapolis.

Celebrating beauty is the fundamental concept that unifies all her work. There is beauty in embracing different cultural backgrounds, the close-up details in nature, and even moments of emotional turmoil and sorrow. Though it isn't always easy, she chooses, in her daily life, to focus on what is beautiful to her, and she hopes that by sharing this perspective through her paintings, others may be inspired to do the same. These ideas can manifest themselves in bright, vibrantly colored compositions or in her dramatic grayscale pieces.

She uses crisp lines and clearly defined shapes of color to depict forms that consist of realistic imagery, stylized with abstract elements, conveying an underlying narrative of the subjects. Symbolism is worked into many of her pieces and is normally intertwined with the background or the subject itself. At times she makes her abstract background as prominent images. They are all connected by a visual style with roots in her earlier career as a graphic designer. She's comfortable painting in a variety of sizes and acrylic paint is her preferred medium.

Many aspects of her life find their way into her paintings: her Boricua heritage, spirituality, love of family and friends, and fascination with nature. She's very proud of her Taíno, African, European roots and it colors her work even when the subject matter is not specifically related to her background.

In recent years, her art has been featured around Indianapolis as large-scale public pieces, murals, billboards, the Indy 500, and at the Indianapolis airport. She felt very honored to have been awarded the prestigious "Creative Renewal Arts Fellowship Grant" of the Arts Council of Indianapolis in, for the year 2020/21. She co-founded the Indy Latina Artists group in 2021 and she designed its logo. She is also a member of IN/A (Indiana Artists Club) of Indiana. The original group included such notables as T.C. Steele, William Forsyth, and Marie Goth, among others. She exhibited in Woman Made 2nd Midwest Open (Juried) Group Exhibition, Woman Made Gallery, Chicago IL

Mirvia stays active in group and solo shows, her art and prints hang in homes across the U.S., Puerto Rico and Spain. She's proud to have honed a painting style that people recognize as hers. Making her work available online has provided a wider audience. For more information about Mirvia's work please go to her website mirviasol.com, IG @mirviasolpainter, FB Mirvia Sol Designs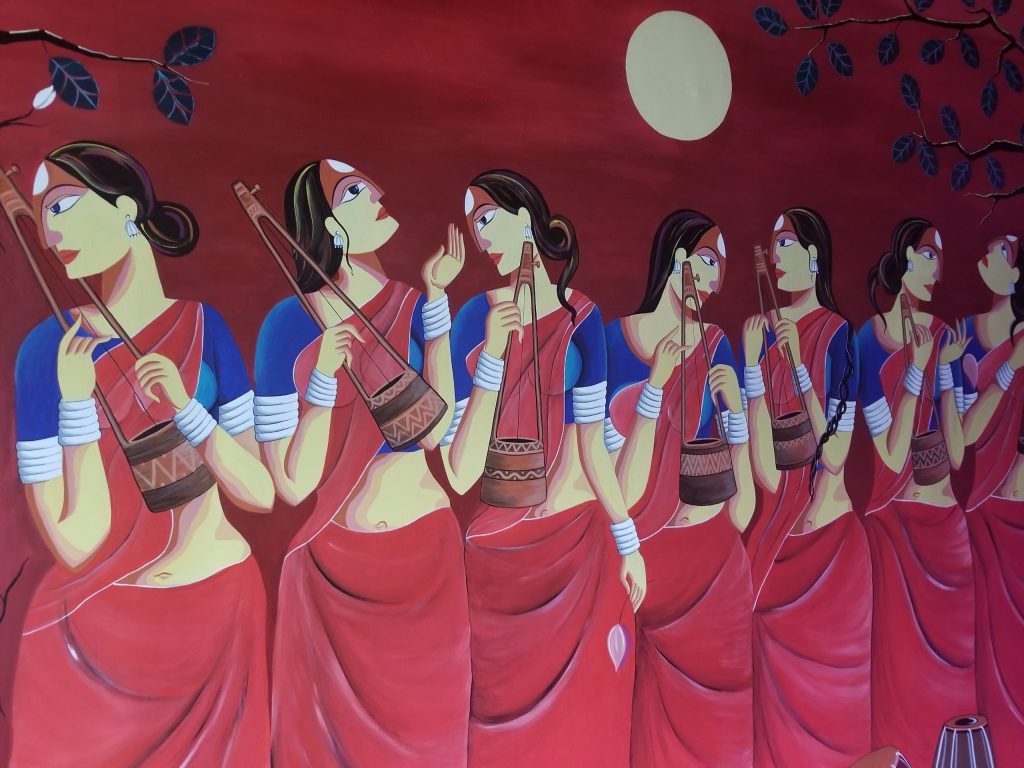 This mural which I love to call "The concert beneath the moon" derives from an Indian folk-art form, specific to the eastern shores. It has been stylized to my artistic ventures in figurative abstract and represents the eternal intertwining of the different aspects of art- music, poetry, and painting. The medium is latex acrylic and every hour spent in creating it is dedicated to visions of dissemination of happiness through color and love among humanity. "When soft voices of the universe die, out comes the moon in a world of tense starlessness She hangs like the lone ship on a tremulous ocean, or a yellow lover among the boughs And summons the music from antique lands The seven sisters from Shangri-la emerge, holding their strings, their svelte fingers Their hair quivering, and attires wafting in the gentle summer breeze As the moon's old light moves along the branches, their tranquil melodies ripple through ether, Piercing the scarlet air pregnant with passion The gentle strumming anoints with ardor And beckon to all the love of the world that is lost, all the harmony among humans that lie defenseless Vulnerable to demolition Are the angels? Are they our daughters? Or are they the ancient guardians protecting our fragile mortal existences? We shall perhaps never know But theirs is the enchanting prelude To the orchestra of the universe that is about to begin And enthrall us all night Till up in the morning the sun shall arise." I commonly go by my nickname "Madhu" among friends and family. I live in Carmel, Indiana,
with my two boys. I was born in the city of Kolkata, India. I started my formal coaching in arts as early as 4 years old and finished my Diploma in Fine Arts in 1998, the same year I graduated High School as the class valedictorian. During my training as an art student, I mastered methods of watercolors, acrylic, and oil painting. I started participating in exhibitions, won awards and trained students but what truly gave wings to my passion for art were constructive criticisms from my teachers and fortunate patronage from
art lovers. While practicing all genres of paintings, my favorite style became figurative abstracts. Alongside working towards my Diploma in Fine Arts, I finished my Bachelors and Masters' program in Biological and Chemical Sciences. In 2005, I left my place of birth to pursue a Ph.D in Neurosciences, at the State University of New York. The artist in me found a home in Indiana, in 2013. Currently, I work as a full-time scientist, alongside being an independent fine-artist, fulfilling private commissions and funding private projects. Amber Grains Art LLC. became a formal entity in year 2017. My studio is a one woman's dream to keep creativity alive. As my favorite painter Van gogh said "I dream my painting and I paint my dream". Please visit https://www.facebook.com/AmberGrainsArt/ to get a peek into my world of colors.