2016-2017 Season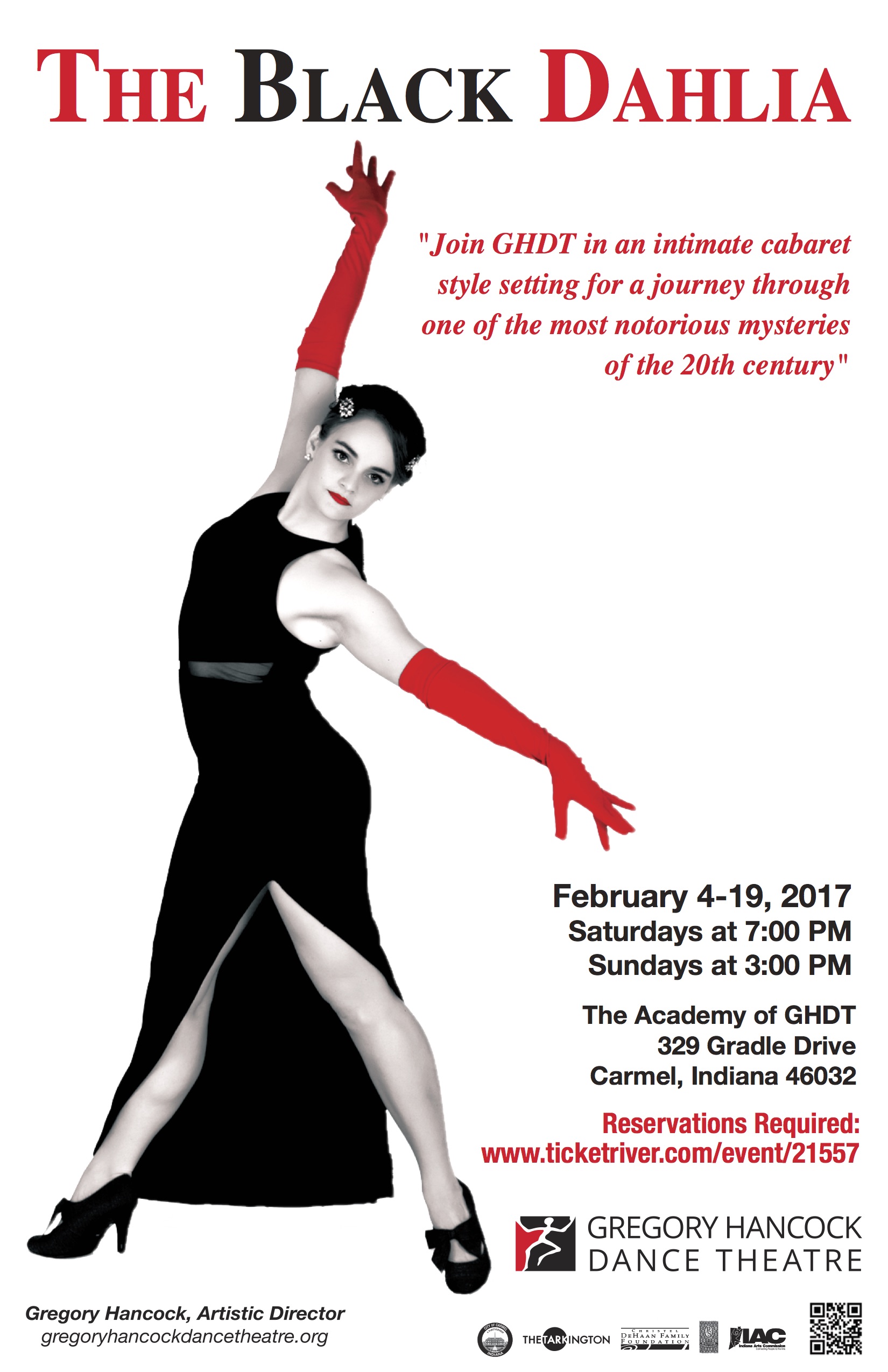 Escape the wintry weather with GHDT's world premiere of THE BLACK DAHLIA, one of the most captivating murder mysteries of the 20th century. Follow Elizabeth Short, The Black Dahlia, as she tumbles down a dark path to her demise. With a classic film noir atmosphere, and unlike anything the company has done before, GHDT creates a smoldering and interactive performance. Curious to know how the story ends? Come to our annual cabaret concert, February 4th-19th, to see the story unfold.
This fundraising event for Gregory Hancock Dance Theatre includes multiple opportunities throughout the performance to donate to the programming of GHDT. Remember your checkbook so you don't miss out on any exclusive GHDT offers!
SUPERHERO: The Story Of A Man Called Jesus
April 14th and 15th at 7PM at The Tarkington Theatre. POSTER COMING SOON.
Back by popular demand and now becoming an annual Holy Week tradition, Gregory Hancock Dance Theatre's SUPERHERO; the story of a man called Jesus is an experience of unprecedented emotion and is the must 'see of the season. A story of betrayal, trust, sacrifice and great love, SUPERHERO is masterfully set to modern music and movement and is an emotional roller coaster from the first pulsating rhythms to the final sweeping notes. SUPERHERO has been lauded as "exquisite," "captivating from start to finish," and "a most moving portrayal of The Passion."
An Evening In India
June 9th and 10th at 7PM at The Tarkington Theater. POSTER COMING SOON.
Gregory Hancock Dance Theatre is known throughout the United States and India for presenting programming that features the culture, music, dance and history of India. Please join GHDT as they close their season with A NIGHT IN INDIA. This spectacular performance of dance is inspired by this fascinating region with its rich history. Colorful costumes, brilliant lighting, romantic and dramatic stories combine with passionate dancing and vibrant music to create a feast for the senses. Travel half way around the world with GHDT to celebrate India's beautiful art and culture.