2023-2024 Performance Season
Gregory Hanock Dance Theatre
Gregory Hancock Dance Theatre announces their 2023-2024 performance season with the presentation of culturally inspired new artistic works as well as the return of audience favorites including Pinocchio, La Llorona, and The Wild Wild West at two venues, The Tarkington and The Florence.
Entering into GHDT's 26th season, Executive Artistic Director Gregory Hancock will continue his legacy of eloquent and passionate storytelling through music and dance. Presenting a thread of everyday universal truths told through a selection of mystical and magical tales, the artists of GHDT will provide a backdrop this season for uniting audiences through inspirational and entertaining experiences.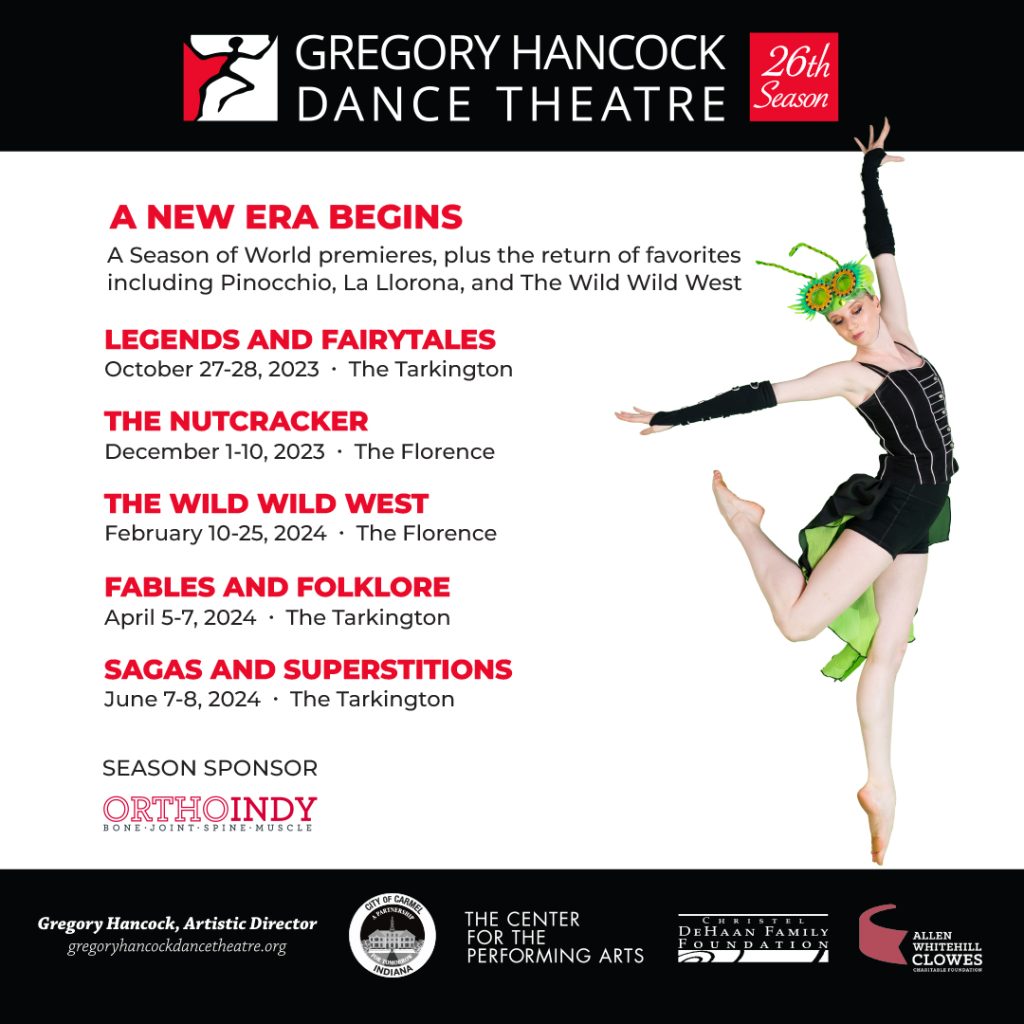 LEGENDS AND FAIRYTALES
The Tarkington
October 27 – 28, 2023 – 7 pm
An audience favorite, LA LLORONA, is a work derived from a Mexican legend about love and spirits. It will captivate the audience through imagination and layers of theatrical nuance. A new work, ANGELS AND DJINN, will use Turkish classical and folk music, stunning costumes, movement and lighting to help tell these meaningful stories which will engage audiences and make deep emotional connections.
THE NUTCRACKER
The Florence
Weekends December 1-10, 2023
This magical student production performed up-close in the new Florence black box theatre, is a reimagined, retelling of GHDT's contemporary holiday classic. Celebrating the magic that can happen through small acts of kindness, GHDT's performance reminds us of the true spirit of giving and will touch the hearts of each audience member. THE NUTCRACKER is an annual family favorite.
THE WILD WILD WEST
The Florence
Weekends February 10-25, 2024
GHDT brings the American Old West into the black-box cabaret setting for a fun theatrical experience giving a nod to the Western movies of old Hollywood. Complete with cowboys, gunslingers, bandits, townsfolk, lawmen and saloon girls, this interactive performance will feature renowned music from popular TV and movie Westerns with costumes of yesteryear.
FABLES AND FOLKLORE
The Tarkington
April 5-6, 2024 – 7 pm
Join GHDT for the highly anticipated return of the popular PINOCCHIO! In Executive Artistic Director Gregory Hancock's adaptation of PINOCCHIO, the lonely Geppetto, an inventor of "Steampunk" dolls and robots, longs for a real human child which results in consequential adventure. Two World Premieres created by Mr. Hancock will also be performed. GOLEM, drawn from Czech folklore is the story of a clay golem created by a rabbi to protect the Jewish ghetto of Prague from persecution. And the final tale featuring original music by GHDT collaborator and composer Cory Gabel, XOCHITL AND HUITZILIN will tell the Aztec story of young love, separation and reunification.
SAGAS AND SUPERSTITIONS
The Tarkington
June 7-8, 2024 – 7 pm
Known for their masterful global storytelling, Executive Artistic Director and Choreographer Gregory Hancock and the artistic dancers of GHDT will bring to the stage two world premieres this June. SUPERSTITIONS, a new work in the creative process willdraw its inspiration from the stories and superstitions of the Roma and other Eastern European cultures resulting in a vibrant celebration. In addition, a to-be-announced new work will close the final concert of GHDT's 26th season. Through brilliant theatrical dance, vibrant costumes and beautiful cultural music, GHDT will continue to transport audiences through meaningful and heartfelt storytelling experiences.
Gregory Hancock Dance Theatre is the resident, professional dance company at The Center for the Performing Arts in Carmel, Indiana.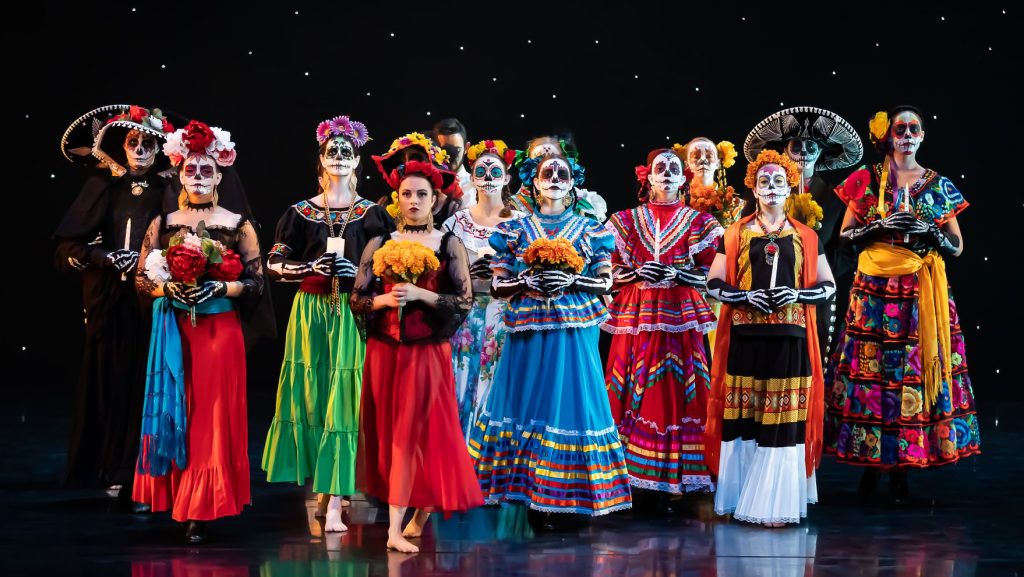 # # #
For additional information about this performance, contact Gregory Hancock Dance Theatre at 317-844-2660 or ghdt@sbcglobal.net . For interview/media information, Ivy Heazeltine, iheazeltine.ghdt@gmail.com. For information about Gregory Hancock Dance Theatre, visit www.gregoryhancockdancetheatre.org.
Photo Credit: Joe Phillips Pictured: GHDT Company Dancers